This dog.  Starski Ann.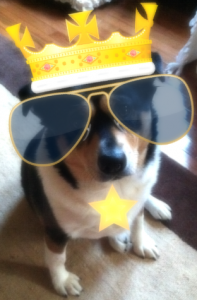 A party on four legs.
She loves the element of surprise.
There are times she gets so excited her eyes look like they are going to pop out of socket.
When she rescued me, she was a homeless dog in a parking lot.  So, I loaded her up and took her to the vet.  When the vet asked her name I was like, "I don't know… we just met."  On the fly, I named her Star.
I had every intention of finding her a forever home.  After a trial visit to my friend's home and acting like Cujo with my friend's dog, Star made her way back to my place.
Three years and a bionic leg later, she is living large at her forever home, with me.
I just love those big eyes.  And, the super cute freckles on her legs.